Iraqi forces push into western Mosul in battle with ISIL
Comments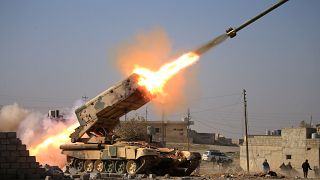 Iraqi security forces have advanced deeper into the western half of Mosul, a day after launching attacks on several fronts against the self-styled Islamic State's last main stronghold in the city.
Troops captured the airport on Thursday, an important prize in the battle to end ISIL's control of territory.
A military spokesman said security forces took over an army base as they pushed further into southwestern districts.
Government forces pushed the insurgents out of eastern Mosul last month but ISIL still holds the western sector, where some three-quarters of a million people are believed to be trapped.
Losing the city could spell the end of ISIL's so-called caliphate in Iraq. But the battle for the west's narrow streets and alleyways is expected to be difficult.