Geert Wilders cancels events after security scare
Comments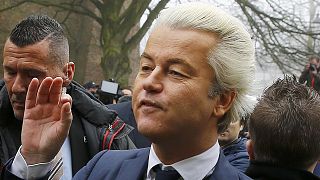 Dutch anti-Islam politician Geert Wilders has cancelled all public campaign events due to security concerns.
The secret service say a security agent of Moroccan background has been suspended on suspicion of leaking details to a criminal organisation.
Was Wilders in danger?
No, according to officials.
Secret service chief Erik Akerboom says neither Wilders nor any of the other people the team protects, including the Dutch royal family, had ever been in danger.
Wilders rarely appears in public.
However he makes occasional exceptions for campaigning events, like touring a farmers' market near Rotterdam on Saturday.
What has Wilders said?
That he will wait for the conclusions of the investigation before appearing in public again.
"My god, I had no idea," he tweeted. "How much more is there I don't know?"
Wilders has been living under 24-hour protection since the 2004 murder by an Islamist militant of film-maker and Islam critic Theo van Gogh.
.