Flybe technical issues: one flight evacuated, another turns back
Comments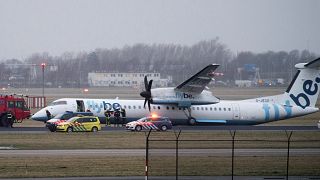 A Flybe flight carrying 59 passengers from Edinburgh to Amsterdam Schiphol has had to be evacuated after a landing gear reportedly failed to deploy.
No one was injured, although the plane was leaning heavily to one side with its wing touching the runway as it landed in the Dutch city.
An earlier Flybe flight from Glasgow to Birmingham had turned back when a technical fault forced the pilot to shut down one engine.