Dakota Access Pipeline: arrests made as deadline to leave camp passes
Comments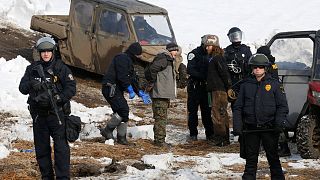 Police in riot gear have arrested over a dozen of a dwindling number of activists at a camp near the Dakota Access Pipeline.
The group surrendered peacefully amid accusations they had failed to vacate the Army-owned site by a deadline (February 22, 2017) outlined by federal authorities.
Starting in August, 2016, thousands of people began pouring into the North Dakota camp to rally against the completion of a four-state crude oil pipeline.
Hundreds have since been arrested following clashes with law enforcement officials.
Last month, US President Donald Trump signed an executive order removing the final obstacles holding back the completion of the pipeline.