Iraqi army continues assault on ISIL stronghold of Mosul
Comments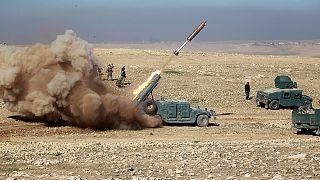 The Iraqi army is continuing its assault on the Islamic State militant group stronghold of western Mosul.
It's the second day of the ground offensive which comes after the insurgents were forced out of the eastern part of the city last month following 100 days of fighting.
Thousands of Iraqi troops, backed by US air and artillery power, are involved in the battle.
Military sources say their approach to the city has been hampered by having to clear improvised explosive devices, or IEDs, along the route.
At least a thousand people have been killed and nearly 700 others injured across the Nineveh province since the start of October.
According to the UN almost half the casualties in Mosul were civilians.