Climate change sceptic to head up US Environmental Protection Agency
Comments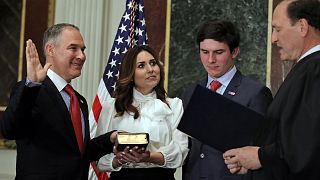 Scott Pruitt has been confirmed at the head of the US Environmental Protection Agency (EPA) – a body he sued more than a dozen times during his tenure as Oklahoma attorney general.
Pruitt is a fierce critic of the agency he'll now run. While he told senators at his confirmation hearing he disagreed with the president's views that climate change is a hoax, he has previously doubted the science behind it.
Democrats and environmentalists worry he will overhaul the EPA, as executive orders to relax regulation on drillers and miners are drawn up.
National Security Advisor
With one more cabinet confirmation crossed off the list, President Donald Trump has turned his attention to the next national security advisor. Retired Vice Admiral Robert Harward was his initial choice after Michael Flynn resigned, but he turned down the post.
Trump has since said he's considering four people for the job, including retired general Keith Kellogg, who is currently acting security chief.