Erdogan takes one step closer to absolute power
Comments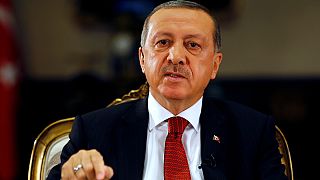 Turkish President Recep Tayyip Erdogan's regime could take a step closer towards the autocratic.
If his people choose vote to adopt a contentious new bill, limits to his power will be sharply reduced, and the President could remain at the top of Turkish politics until 2029.
Speaking to adoring crowds, the president said he hoped the reforms will be "good for our people… good for the country… the beginning of a new era".
"I hope this will be good for our people. I hope it will be good for the country. I hope this will be the beginning of a new era."
The proposed reform ignited longstanding parliamentary tensions in Ankara.
Members of the ruling AKP and those from the opposition Republican party traded blows – quite literally – highlighting the instability cited by Erdogan as the reason for his proposed reforms.
Ringing in the changes
The change would transfer the executive power currently held by the Prime Minister into the hands of the President.
The ability to hire and fire ministers would also fall under his remit.
Along with the rest of parliament, Erdogan would be able to appoint four members of the High Council of Judges and Prosecutors, although parliament would select seven members alone.
The number of MPs will increase from 550 to 600, although the president would easily be able to bypass them by issuing decrees, or by merely dissolving parliament and calling an election.
'The beginning of a new era'
With MPs adopting 18 articles of the bill in January, aided in part by the alliance between Erdogan's AKP and the right-wing nationalist party, the vote will go to the public.
Since last year's failed military coup, Erdogan has enjoyed a surge in popularity.
And with the bill needing only the public's stamp of approval before it can be passed, the president will be confident.
Their adoration of him for the most part has not been swayed by the recent purges, although some did protest against his iron-fisted reaction to the coup attempt.
They denounce what they see as Turkey's drift towards an authoritarian state.
Although, with the passage through parliament confirmed, voices of protest may not be loud enough to prevent Erdogan's power grab..