Far-right Wilders leads polls vowing to close Dutch borders
Comments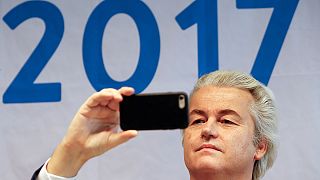 The far-right PVV of Geert Wilders leads in the polls as next month's Dutch election looms.
Wilders is using Trump tactics and praising Brexit in an attempt to cash in on the wave of populism dominating the political landscape.
Geert Wilders: Whatever Happens in 2017, Populist Genie Is Out of the Bottle. https://t.co/JaZvL6qsrfpic.twitter.com/l5whyfpPMA

— Voice of Europe (@V_of_Europe) February 11, 2017
The PVV is on course to win 30 seats in the 150 seat parliament if the pollsters are correct; however most of the 28 other parties running say they will not go into coalition with Wilders.
How a Geert Wilders victory in Dutch elections could cause the EU to IMPLODEhttps://t.co/SMHAoB4EHQpic.twitter.com/rO31ioxcwl

— Voice of Europe (@V_of_Europe) February 5, 2017
In a rare interview he set out his vision:"We want to make the Netherlands ours again, to close the borders and keep all the money we give to foreigners, it's billions, to Africa for development, to Brussels, to Greece, to asylum seekers in the Netherlands. We will stop it and give all that money to the Dutch people living in the Netherlands."
The controversial right-wing Wilders said if the other parties deny him power after an election victory he will expect the electorate to rise up "You can't just ignore the will of 2.5 million people," he said.