Moments after murder: striking image wins photography prize
Comments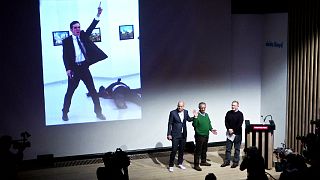 This striking image of an assassin, moments after murder, has won the top prize at the World Press Photo competition.
Photographer Burhan Ozbilici, who works for the Associated Press, captured the deadly attack on Russia's Ambassador to Turkey, Andrey Karlov, in Ankara last December.
The killer, off-duty policeman Mevlüt Mert Altıntaş, ranted about the conflict in Syria as he pulled the trigger at an art gallery.
The 2017 World Press Photo of the Year is by AP</a>&#39;s <a href="https://twitter.com/BurhanOzbilici">BurhanOzbilici of an assassination in #Turkeyhttps://t.co/RmBkI0qNxJ#WPPh2017pic.twitter.com/ehglw1hFNj

— World Press Photo (@WorldPressPhoto) February 13, 2017
Ozbilici's series of pictures, called "An Assassination in Turkey", shows how the attack unfolded. Karlov's lifeless body is seen on the ground as Altıntaş raises his hand and points to the sky. Other images show terrified witnesses in the corner of the room.
The photographer, who said he only went to the gallery because it was on his way home from the office, said: "My hero for the past and for the future will be courageous, honest, independent journalists."
Other categories in the competition included nature, sport and daily life.
---