Italian students turn violent over turnstiles
Comments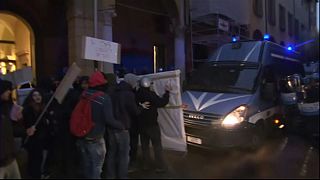 There have been ugly scenes in Bologna in Italy after riot police and students clashed inside the city's university for a second day.
The violence reportedly erupted after students tried to break through a police cordon in front of the Vice-Chancellors office.
Protesters oppose his decision to install turnstiles in the Faculty of Arts.
Firecrackers, glass bottles and rubbish were all thrown during the melee.
At least two people were arrested.
Around one thousand students are said to have taken part in Friday's protest.