Beached whale had 30 plastic bags in its stomach
Comments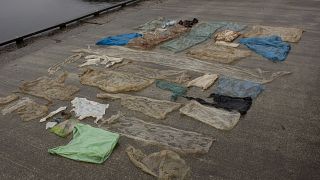 Zoologists in Norway say a beached whale found off the country's western coast earlier this week had more than 30 plastic bags inside its stomach.
The whale was put down after it became stranded of the island of Sotra. It's said to have been in a poor physical condition and showing signs of distress.
An autopsy later revealed huge amounts of plastic and packaging had blocked the the mammal intestinal system.
Experts in Norway say the findings are not surprising given that the amount of non-biodegradable waste in the seas continues to grow.