Debating Brexit: process moves to UK parliament
Comments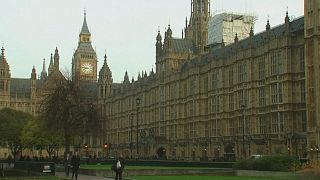 MPs in the UK have begun debating the bill to trigger Article 50 of the Lisbon Treaty.
This would give Theresa May the go-ahead to launch
formal negotiations for Britain to leave the EU.
Two days have been set aside for the second reading debate of the EU (Notification of Withdrawal) Bill.
A vote is scheduled for Wednesday evening.
Will this be a straightforward process?
Insiders are expecting the Bill to clear its first parliamentary hurdle fairly easily.
The opposition Labour Party has already said it will not block the triggering of Article 50, the act which will trigger the start of the two-year Brexit process.
Labour leader Jeremy Corbyn is trying to contain a revolt by some Labour MPs.
Starmer:"this is a short Bill, a simple Bill, and for the Labour Party a difficult Bill". Tory benches laugh. Starmer tries candour strategy

— Faisal Islam (@faisalislam) January 31, 2017
The majority voted against Brexit in last June's referendum.
Corbyn has imposed what is known as a "three-line whip":http://www.parliament.uk/about/mps-and-lords/principal/whips/, ordering them to vote for the Bill at its second reading.
Shadow ministers Jo Stevens and Tulip Siddiq have already quit in protest.
Other front benchers – particularly those representing
constituencies which voted for Remain – say they will oppose the Bill, even if it costs them their jobs.
The SNP and the Liberal Democrats are not backing the Bill.
I thought the UK had already decided to leave the EU?
Ministers were forced to table this legislation after the Supreme Court upheld an earlier ruling that the Government must obtain the approval of Parliament before it can begin negotiating Britain's withdrawal from the EU.
They are insisting the Bill will complete its passage through
both houses of Parliament in time for the Prime Minister to meet her deadline of March 31 to trigger Article 50.