Article 50 and how to trigger Brexit
Comments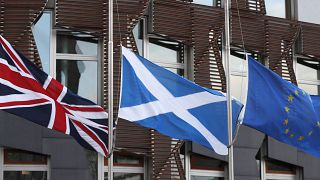 June 23, 2016. Defeating all predictions and stunning the country, a majority of Britons voted in favor of Brexit. The United Kingdom will leave the European Union.
We will support Article 50 being triggered, we have made that very, very clear.

British opposition party leader
But it's not that easy.
Britain's complex negotiations to exit the EU can only begin when Article 50 of the Treaty of Lisbon is formally triggered, something
Theresa May's Conservative government hopes to do by March.
Once Article 50 is triggered, a two-year period will begin during which a leaving agreement will be negotiated to set out the arrangements for the withdrawal and outline the UK's future with the EU. The Treaty states:
"The Treaties shall cease to apply to the State in question from the date of entry into force of the withdrawal agreement or, failing that, two years after the notification referred to in paragraph 2 (…)"
When Prime Minister May announced she intended to trigger Article 50, she had hoped to do so without too much red tape.
Theresa May, British Prime Minister:
"I do not mean that we will seek some form of unlimited transitional status, in which we find ourselves stuck forever in some kind of permanent political purgatory. That would not be good for Britain, but nor do I believe it would be good for the EU. Instead, I want us to have reached an agreement about our future partnership by the time the two-year Article 50 process has concluded."
But she lost a political battle with a late-January UK supreme court decision which concluded that British parliament must vote to trigger Article 50.
If Article 50 is triggered by March 2017 as May hopes for, Britain should officially leave the EU no later than April 2019. Even the opposition is on the same page.
Jeremy Corbyn, British opposition Labour party leader:
"We will support Article 50 being triggered, we have made that very, very clear. That is the result of the referendum and we have to respect that."
The supreme court ruled however that there was no need for the government to wait for consent from the devolved assemblies in Scotland, Northern Ireland and Wales, likely a disappointment for
politicians such as Scottish First Minister Nicola Sturgeon, who still hopes to be consulted.
Kathleen Brook, Director of Research, City Index:
"The fact that the Supreme Court did not hold up the Sewel Convention, which basically means they don't need to consult the devolved parliaments of Northern Ireland, Wales and of course Scotland, could actually trigger some tension, particularly with Scotland. And that this decision may sow the seeds of a potential second independence referendum for Scotland down the line."
Sturgeon has said the promises the UK made to the Scottish government on devolution were "not worth the paper they were written on".
Last year 62% of Scots voted to remain in the European Union.