Post-Brexit Brits seek Belgian nationality
Comments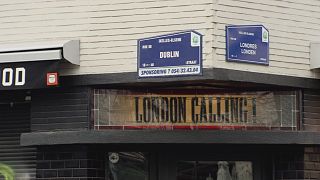 Brexit left many British expats in Brussels wondering what the future held.
Hundreds are so worried about keeping their right to live and work in Belgium
So much so that they are looking to become Belgian.
Delphine Bourgeois, a local councillor in the Ixelles neighbourhood of Brussels, said that there was a rush for more information right after the vote in June.
"It was as if (the British) had lost a member of their family. Then this reaction consolidated over time and became a request for Belgian nationality and keep a symbol of European citizenship."
Tim Nuthall was one such Briton, who received his Belgian citizenship in December.
"I woke up I think at about 4 o'clock in the morning, the night after the referendum. And I have a new born baby who was 6 months old at the time. And she was lying between myself and my partner and I kind of turn over looked to my phone, saw the news and just thought: Oh my God this is a disaster," he said.
"I thought about her future and about my future of somebody who is committed to living in Brussels and committed the European ideal. And the following day I started the process to become Belgian.*
But not all British people can use this way of becoming Belgian.
In fact, EU officials have a separate legal status which makes things tricky.
Felix Geradon, a union leader who represents them, says that EU officials have a special status and a separate residence card.
"Some of the Belgian authorities consider that this card is not proof of residence on Belgian territory. And, in any case, they deem it is not proof of integration into Belgian society and it could be a reason to refuse the nationality to the officials seeking it," he said.
Local authorities normally require would-be Belgians to show they have been living in the country for at least five years.