Italy avalanche: rescue operation over as final bodies retrieved
Comments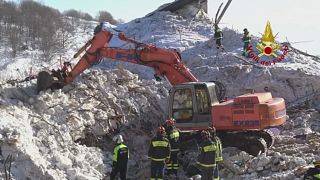 The search and rescue operation at the avalanche-hit Hotel Rigopiano is over.
Italy's national fire brigade said the last two bodies had been pulled from the wreckage (January 26), putting the final death toll at 29.
Eleven people survived.
Everyone known to have been at the central Italian hotel at the time of the disaster has now been accounted for.
Some guests were waiting to be evacuated when the avalanche ploughed into the building, partially overturning it and pushing it some ten metres away from its usual site.
Multiple earthquakes had struck the region earlier that day (January 18), while the roads surrounding the hotel were blocked by heavy snowfall.
Prosecutors have launched an investigation into the tragedy.