Greek Supreme Court delays verdict on extradition of Turkish soldiers
Comments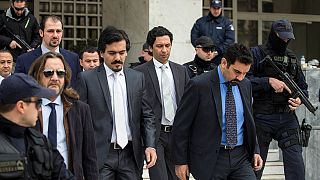 Greece's Supreme Court has postponed a final decision on whether or not to extradite eight Turkish soliders who fled to the country in July.
Initially expected on Monday (January 23), the verdict will now be delivered on Thursday after one of the judges presiding the case reportedly fell ill.
The crewmen fled their home country in a Turkish military
helicopter after last year's failed military coup attempt in Ankara.
They are seeking asylum in Greece on claims their lives are in danger and they would not receive a fair trial if returned home.
The soldiers deny any involvement in the attempt to overthrow Turkey's President, Recep Tayyip Erdogan.
However, Ankara has branded the group traitors and has demanded their extradition.
A ruling against their extradition would be considered final and could not be challenged. The soldiers will then await decisions on their asylum applications. This could take months.
However, if the Supreme Court upholds Turkey's request, it will be down to Greek Justice Minister Nikos Paraskevopoulos to decide the next move.
Greece is in a delicate position between not wanting to stoke tensions with its neighbouring country while also taking into consideration concerns over alleged human rights abuses in Turkey.
Final appeal
On January 10, a prosecutor at Greece's Supreme Court recommended rejecting an extradition request for two of the soldiers.
Hearings for the remaining six took place over the following days.
An appeals court prosecutor initially challenged a ruling made after previous lower court hearings, which stated that five of the crewmen should not be extradited.
A lower court found the other three should be removed from Greece. They have appealed the decision.