White House press secretary blasts media over Trump inauguration crowd
Comments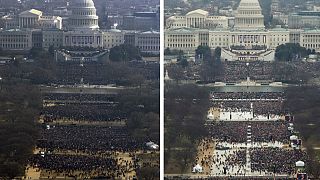 The row over how many people actually attended Donald Trump's inauguration has escalated after new White House Press Secretary Sean Spicer rounded on journalists, accusing them of fake reporting.
The latest broadside came after his boss also accused the media of dishonesty.
It follows the publication of photos appearing to show a marked difference in crowd numbers between the inauguration of Barack Obama and president Trump's swearing in on Friday.
Dismissing the images, Spicer refused to take any questions from journalists during his first formal press briefing.
"This was the largest audience to ever witness an inauguration period, both in person and around the globe….. These attempts to lessen the enthusiasm of the inauguration are shameful and wrong," Spicer said.
On Saturday, more than 500,000 people marched in Washington DC to highlight women's rights, which many fear are under threat from the new administration.
Millions also demonstrated in other US cities, and around the world, in so called ''sister marches''.
Some 400,000 hit the streets of New York.
In response, Donald Trump took to twitter.
Highlighting the fact that there had been a recent election he said ''Why didn't these people vote.''
Watched protests yesterday but was under the impression that we just had an election! Why didn't these people vote? Celebs hurt cause badly.

— Donald J. Trump (@realDonaldTrump) January 22, 2017