Panic as fire breaks out in Bucharest nightclub
Comments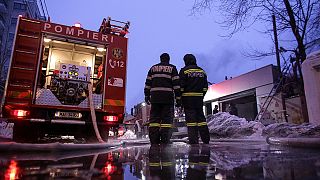 One person is in a serious condition and more than 40 have been treated for smoke inhalation and hypothermia after a fire broke out in a nightclub in Bucharest.
Some people have also been treated for broken bones, likely to have been caused in the panic to get out of the Bamboo club in the Romanian capital.
The cause of the fire is not yet known and prosecutors have opened an investigation.
Some reports say the club, which was also the scene of a fire in 2005, had yet to renew a fire safety permit.