Germany flies high at World Cup team event
Comments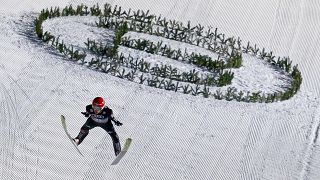 Germany's Markus Eisenbichler, Stephan Leyhe, Andreas Wellinger and Richard Freitag joined forces in fine fashion to win a world cup ski jumping team competition in Zakopane, Poland.
It was the 11th time the Germans have topped the podium in a team event on the world cup circuit.
Piotr Zyla, Maciej Kot, Dawid Kubacki and Four Hills winner Kamil Stoch handed Poland a runners up finish, much to the delight of the 40 000 strong partizan crowd.
The Polish quartet finished 5.1 points behind.
Only 8.5 points adrift in third were Slovenia.
Their flying foursome was made up of Jurij Tepes, Jernej Damjan and Prevc brothers Peter and 17-year old sensation Domen who was this season's early pacesetter.