Kyrgyzstan village devastated as dozens die in Turkish cargo plane crash
Comments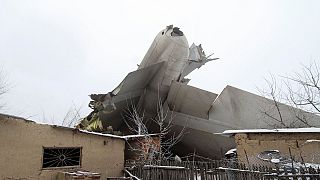 The village of Dacha-Suu in Kyrgyzstan is reeling after a Turkish cargo plane crashed into houses killing at least 33 residents and four crew.
AFP: Kyrgyzstan blames pilot error for Turkish cargo plane crash https://t.co/77×8tpKRKRpic.twitter.com/8JJzUfS9pz

— Mohamed Naseer (@MDVnaseer) January 16, 2017
The Boeing 747 operated by ACT Airlines was flying from Hong Kong to Istanbul with a scheduled stop at Manas airport north of the capital Bishkek.
Kyrgyzstan Health Ministry says 37 killed in cargo plane crash https://t.co/KxKpqyQcX1pic.twitter.com/HqHGNOmM3u

— TorontoNews (@torontonews3) January 16, 2017
The plane crashed close to the runway at 7.31 am local time.
as it attempted to land in foggy conditions.
unrecognizable
''I was asleep in the morning, my wife woke me up. She said there was a bright light and asked what it could be. We went outside and saw flames, fire and thought that a plane crashed. We ran and saw that our village was unrecognizable, everything was ruined,"
said one shocked resident.
Kyrgyzstan: Fires blaze at site of Turkish cargo plane crash, 37 left dead https://t.co/iLXxDkJmvUpic.twitter.com/YGm8pnsZf6

— Ricardo Nester (@NesterTweets) January 16, 2017
The aircraft, operated under the Istanbul based MyCargo, is believed to be around 14 years old.
Kyrgyzstan's deputy prime minister Muhammetkaly Abulgaziev said "According to preliminary information, the plane crashed due to pilot error."
BREAKING MyCargo Airlines Boeing 747-400F crashed in Kyrgyzstan https://t.co/ZHI8l3RRVGpic.twitter.com/08Pb8PUwjR

—

AIRLIVE

.net (@airlivenet) January 16, 2017
Investigations are ongoing.