Trump meets press after secret dossier leak
Comments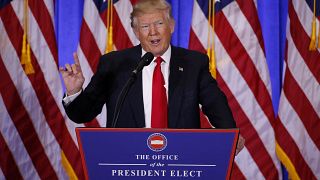 Donald Trump says Russia has never tried to use leverage with him.
The US-President elect is blaming intelligence agencies for news reports that Moscow has compiled compromising information on him.
Twitter
In a series of Twitter posts hours before his first news conference in almost six months, Trump accused intelligence agencies of taking "one last shot" at him by leaking the information.
Intelligence agencies should never have allowed this fake news to "leak" into the public. One last shot at me.Are we living in Nazi Germany?

— Donald J. Trump (@realDonaldTrump) January 11, 2017
Russia has never tried to use leverage over me. I HAVENOTHING TO DO WITHRUSSIA – NO DEALS, NO LOANS, NO NOTHING!

— Donald J. Trump (@realDonaldTrump) January 11, 2017
"Fake news"
The businessman-turned-politician said a CNN report claiming that classified documents presented to Trump in an intelligence briefing last week included allegations that Russian operatives claim to have compromising information about him was "fake news".
What Russia says
The Kremlin said on Wednesday that it was "total nonsense" that Russian officials had assembled a file of compromising information on Trump.
Kremlin spokesman Dmitry Peskov dismissed the dossier containing the claims as a hoax.
He said it had been dreamed up to further harm US-Russia relations , which are already at their lowest level since the Cold War.
The agenda
Russia is likely to take centre stage during Trump's first formal session with reporters since winning the US election on November 8.
He is likely to face questions about his bid to warm relations with Moscow after US intelligence agencies concluded Russia used cyber hacking to swing the election in his favour.
Trump has also been under pressure to separate himself from his global business operations to avoid any appearance of a conflict of interest once he succeeds President Barack Obama on January 20.