Trump's attorney general nominee denies KKK sympathies
Comments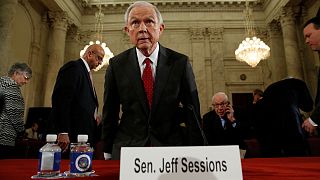 It was a rowdy start for the confirmation hearing for Senator Jeff Sessions who is Donald Trump's nominee for the job of attorney general. Several protesters heckled him while others dressed up as members of the anti-black Ku Klux Klan.
For many, Sessions is a highly controversial candidate with critics accusing him of being racist, a KKK sympathiser and of having a poor record on human rights.
In 1986, Sessions was denied confirmation to a federal judgeship after allegations emerged that he made racist remarks, including testimony that he called an African-American prosecutor "boy," It is an allegation Sessions has denied.
Sessions from the very beginning of the hearing defended himself:
"I was accused in 1986 of failing to protect the voting rights of African-Americans […] and of condemning civil rights advocates and organizations and even harbouring, amazingly, sympathies for the KKK. These are damnably false charges. I abhor the Klan and what it represents and its hateful ideology."
Democratic Senator Dianne Feinstein said however, that the Senate Judiciary Committee had received letters from 400 civil rights organisations opposing Sessions' confirmation to the country's top law enforcement post.
But Sessions has his supporters across the country and on social media:
Sessions Is No Racist:The Dem senators know that Sessions is no racist. Their voters know that Sessions is no racist https://t.co/V395vklJSx

— Traditional American (@RightWingAngel) January 11, 2017
I support Jeff Sessions for Attorney General SenatorSessions</a><a href="https://twitter.com/hashtag/MAGA?src=hash">#MAGA</a><a href="https://twitter.com/hashtag/AmericaFirst?src=hash">#AmericaFirst</a><a href="https://twitter.com/hashtag/confirmationhearings?src=hash">#confirmationhearings</a><a href="https://twitter.com/hashtag/Trump?src=hash">#Trump</a> <a href="https://t.co/nrWv4wkTWN">pic.twitter.com/nrWv4wkTWN</a></p>&mdash; Sandraن (SandraTXAS) January 10, 2017
As attorney general, Sessions would be responsible for giving unbiased legal advice to the president and executive agencies.
This week seven cabinet hopefuls are in for grillings before the Senate committee tasked with confirming their appointments. With the Republicans in the majority in Congress some see the hearings as merely a "rubber stamp" for the president-elect's choices.