Why did BuzzFeed publish unverified allegations on Trump's Russia ties?
Comments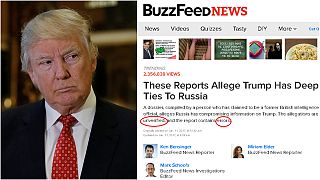 Salacious and unproven claims Russian intelligence has personal and compromising information about president-elect Donald Trump have been reportedly circulating among high-ranking politicians and journalists for several months.
Now the allegations – contained in a document prepared by a former British intelligence official hired by Trump's political opponents – have controversially been made public.
BuzzFeed News has today published the 35-page dossier on its website, even while admitting the information was unverified.
The move raises major ethical concerns about the media's gatekeeping role, after a year in which the influence of fake news came to the fore during the US presidential race.
FAKENEWS – A TOTALPOLITICALWITCHHUNT!

— Donald J. Trump (@realDonaldTrump) January 11, 2017
"BuzzFeed News is publishing the full document so that Americans can make up their own minds about allegations about the president-elect that have circulated at the highest levels of the US government," the media newcomer wrote in its justification for publication.
Editor-in-chief Ben Smith went into more detail in a memo to staff, that he later published on Twitter: "Our presumption is to be transparent in our journalism and to share what we have with our readers. We have always erred on the side of publishing. In this case, the document was in wide circulation at the highest levels of American government and media."
Here's the note I sent to buzzfeednews</a> staff this evening <a href="https://t.co/OcAloWzVzb">pic.twitter.com/OcAloWzVzb</a></p>&mdash; Ben Smith (BuzzFeedBen) January 11, 2017
Other US media outlets were, however, more guarded.
The New York Times said it would not publish the document because the allegations were "totally unsubstantiated".
It added in an article on the subject: "BuzzFeed's decision was sure to accelerate a roiling debate about the role and credibility of the traditional media in today's frenetic, polarised information age.
"Of particular interest was the use of unsubstantiated information from anonymous sources, a practice that fueled some of the so-called fake news – false rumors [sic] passed off as legitimate journalism – that proliferated during the presidential election."
WikiLeaks has a 100% record of accurate authentication. We do not endorse Buzzfeed's publication of a document which is clearly bogus.

— WikiLeaks (@wikileaks) January 11, 2017
US broadcaster CNN, meanwhile, said it has only published information that its journalists could independently verify.
It wrote: "CNN has reviewed a 35-page compilation of the memos, from which the two-page synopsis was drawn.
"The memos originated as opposition research, first commissioned by anti-Trump Republicans, and later by Democrats.
"At this point, CNN is not reporting on details of the memos, as it has not independently corroborated the specific allegations."
The Washington Post published an opinion piece on "BuzzFeed's ridiculous rationale for publishing the Trump-Russia dossier", saying it should have held off going to press until more verification had been done.
NBC News reported Trump had been given briefing papers that included "damaging allegations about his Russia ties".
Nevertheless, US officials have told Reuters that the claims, while unsubstantiated, were tagged onto a report about Russian interference in the US election, which was presented to Barack Obama and successor Trump.
The Federal Bureau of Investigation and other US agencies are said to be investigating the credibility and accuracy of the claims.
Euronews has published news stories about the allegations and the debate they are generating, without going into specifics it is unable to verify.
Your view: What do you think? Was BuzzFeed right to publish? Let me know: chris.harris@euronews.com