Mass killer Breivik makes Nazi salute at court hearing
Comments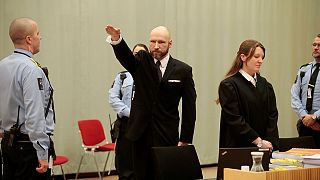 Norwegian mass murderer Anders Behring Breivik gave a Nazi salute on Tuesday at the start of a fresh hearing over whether his human rights have been violated.
The 37-year-old far-right extremist made the gesture at the specially constructed court room at Telemark prison in Skien.
Last year, a lower court backed Breivik's claims that his isolation at the maximum security jail had breached his human rights.
Norway's government is trying to appeal the decision.
Breivik has been kept in solitary confinement since being was found guilty of mass murder and terrorism.
In July 2011, he killed 77 mostly young people after first setting off a bomb in the centre of Oslo and then later driving to the nearby island of Utoya where he went on a shooting rampage.
The latest hearing is expected to last six days.