Ivory Coast defence minister freed by mutinous soldiers
Comments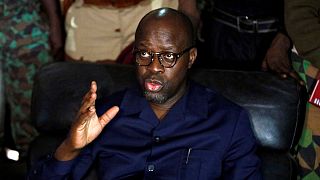 Ivory Coast's Defence Minister Alain-Richard Donwahi and dozens of others have been allowed to leave a house where they had been trapped following a mutiny by disgruntled soldiers.
Some among the military appeared to reject a deal aimed at ending the two-day revolt.
The president said he had agreed to some of the soldiers' grievances over pay but condemned the unrest.
The uprising saw troops rebel at military bases in several cities including the commercial capital Abidjan.
The mutiny began on Friday when the soldiers seized Bouake, Ivory Coast's second-largest city. UN troops were sent along with government forces as tensions mounted.
Now the government is trying to play down the events, denying that the defence minister had been held against his will.
It's still unclear whether the soldiers – many of them former rebel fighters integrated into the army – will honour the agreement.