Russians attend midnight mass to mark Orthodox Christmas
Comments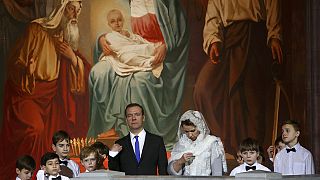 Russian Orthodox Christians have been celebrating Christmas, attending special midnight mass held in churches and cathedrals across the country.
From eastern Europe to Africa and central Asia, many Christians are celebrating Christmas now, two weeks after people in the West.
According to tradition people begin celebrating Christmas at the night mass, and continue at home the following day.
The Russian Prime Minister Dmitry Medvedev and his wife joined hundreds of worshippers at the Cathedral of Christ the Saviour in Moscow.
The Head of the Russian Orthodox Church, Patriarch Kirill, led the mass, urging Christians to be more tolerant and forgiving, leave what he called "virtual reality" for the real world, and help those in need.
President Vladimir Putin attended a service in the Novgorod region, over 500 kilometres north of Moscow.
Recent years have seen efforts to promote Christmas, which was only revived after the Soviet era ended 25 years ago.
But for many Russians, the big celebrations are still reserved for New Year's Eve.