Iraqi troops enter Mosul from the north
Comments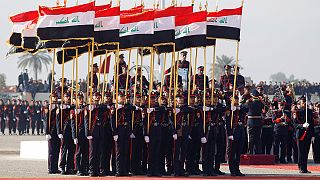 Iraqi troops have reportedly entered Mosul from the north.
Elite forces are said to have bridged a river during a night raid.
Analysts say it marks part of a new phase in the battle for the city.
Iraqi forces have so far recaptured more than half of eastern Mosul.
However, they have yet to cross the Tigris to face the insurgents who remain in control of the western half of the city.
The details
A spokesman for Iraq's elite Counter-Terrorism Service (CTS) says troops took the territory in an overnight raid across a tributary of the Tigris River in eastern Mosul.
Iraqi army units later breached the city from the north for the first time since the offensive began on October the 17th.
It is not yet clear how much of the area they control.
The operation is part of a major new push launched last week to seize ground in the city.
Progress in the nearly three-month-old operation had stalled for weeks due to concerns for civilians.
What about the civilians in Mosul?
More than 100,000 have fled.
However, 1.5 million have stayed behind in the city.
Commanders say this forced the government troops to slow down their advance.
The UN estimates more than 2,000 residents a day are fleeing the city.
Many are heading for increasingly crowded camps in the surrounding countryside.
The battle for Mosul
This is the biggest ground operation in Iraq since the 2003 US-led invasion.
A victory by the 100,000-strong US-backed pro-government force would probably spell the end for ISIL's self-styled caliphate.
ISIL forces took control of a third of Iraq when the army abandoned its positions and fled two years ago.
However, the Iraqi government says its security forces have since rebuilt and have proven themselves in battles to recapture lost ground.
Resistance
There continues to be fierce resistance from militant fighters.
At least four soldiers were killed in a series of attacks 200km south of Mosul on Friday.
What they are saying
Troops will soon "cut the head off the snake" and drive the ultra-hardline group from its largest urban stronghold – Prime Minister Haider al-Abadi.
"We used special equipment and had the element of surprise – the enemy did not expect us to mount a night offensive because all the previous ones were during the day," – CTS spokesman Sabah al-Numan.