Fighting ISIL in Iraq prevents terror at home - President Hollande
Comments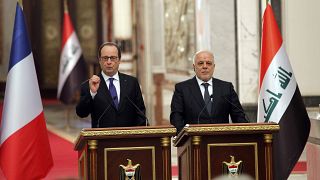 President Francois Hollande regards the fight against ISIL in Iraq key to preventing terrorism in France. That was the message from the French leader on his arrival in Baghdad for talks with Iraqi officials.
Hollande is the most prominent head of state to visit Iraq since a US-led 60-membercoalition began against the jihadists.
"We have a common enemy: it's terrorism, it's Daesh, it's fundamentalism. This enemy, we need to hunt it down in places where it exists – in Iraq, in Syria. But also we need to understand the links which exist between these terrorist groups and a certain number of individuals who are manipulated and who organise attacks in several countries."
Francois Hollande warns military action against ISIS is key to preventing attacks https://t.co/uEwFnmGYvJ

— Iamred Bot (@IamredBOT) January 2, 2017
There are about 60 French citizens fighting alongside ISIL militants in Mosul alone with hundreds more across the rest of Iraq and in Syria, French diplomatic sources said.
France is the second largest contributor to the coalition which has carried out thousands of airstrikes against ISIL. Five hundred of its soldiers are also advising local forces
Besides paying them a visit Hollande went to the autonomous northern region of Kurdistan to hail cooperation between his army and Peshmerga forces in pushing back the militants.
France has been one of the main backers of the Kurdish forces in the war against ISIS and the country maintains a consulate general in Erbil and a cultural center. France will deliver to Erbil about 38 tonnes of humanitarian aid, including medicine, officials said.
#France to deliver 38+ tonnes of #humanitarian aid, including medicine, to the #Kurdistan Region, during President Hollande's visit. pic.twitter.com/w8X9DkJB6x

— Samira Ghaderi (@Samira_Ghaderi) January 2, 2017