French president reaffirms support for anti-ISIL mission in Iraq with New Year visit
Comments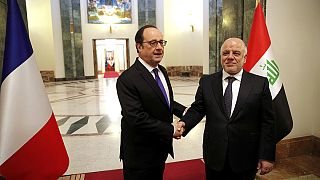 French President Francois Hollande has visited his country's troops in Iraq.
The New Year's trip took place under tight security, and a deadly bomb attack in Baghdad within hours of his arrival showed why it was justified.
It was Hollande's first visit by a Western head of state since the start of US-led military operations against the so-called Islamic State two years ago.
François Hollande en visite en Irak https://t.co/cOLescdAjapic.twitter.com/q8yvK3bCD8

— Libération (@libe) January 2, 2017
In a New Year's address to the nation before leaving, Hollande stressed that the fight would go on: "You have continued to live, work, go out, circulate, cherish freedom. You can be proud of yourselves.
"But we have not finished with the scourge of terrorism. We will have to continue fighting it, abroad, that's the aim of our missions in Mali, Syria and Iraq," he said.
He may have the lowest approval ratings of any French president of modern times, but his legacy will include a strong commitment to overseas action.
Such is his unpopularity that Hollande is not standing for re-election. But, it seems, he remains undaunted in his support for foreign engagements undertaken by France during his presidency.
In Iraq the country is the second largest contributor to the international coalition after the United States.
Under Operation Chammal, which began in September 2014, France has deployed one aircraft carrier, two frigates, 18 fighter jets, six bombers and other major assets. Almost 1,000 French troops are involved in the mission. France has conducted some 12% of the non-US airstrikes.
From an early stage his personal engagement in the campaign was evident. The first French airstrikes happened within days of a visit to Iraq in September 2014. At that point France was not committed to joining the Western effort in Syria, but that was to change the following year.
Prior to the Middle East operation, in January 2013, Hollande had sent troops to spearhead a counter-terrorism drive in Mali. France led an international coalition which became Operation Sangaris and lasted two years.
The Charlie Hebdo attacks in France in January 2015 gave rise to the French intervention in Syria. Though, as in Iraq, the target was intended to be only the Islamic State.