Echo Flight takes aid to the displaced in the war-torn Democratic Republic of Congo
Comments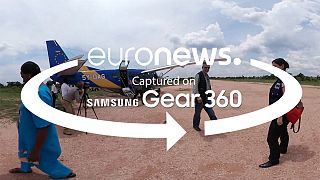 There are nearly two million displaced people in the Democratic Republic of the Congo, a country devastated by over 20 years of war. Armed conflict and general insecurity have created one of the world's most complex and long standing humanitarian crisis.
Around 20,000 displaced people have gathered in the village of Luizi, Province of Tanganyika, in the past few months. They are escaping violence between Pygmy and Bantu tribes.
The French NGO Première Urgence Internationale runs a mobile clinic here. Malnourished children are screened and assisted, and basic health services provided.
Access remains a key challenge to manage the country's multiple emergencies. Many main roads are under the control of armed groups, and often infrastructure simply doesn't exist.
For the past 20 years Echo Flight, the EU Humanitarian Aid air service, has operated in the most complex environments to reach people in need.
Echo Flight took euronews to South Kivu, where the aircraft landed on one of the most challenging runways for the bush pilots of the service, next to the village of Kolula.
Around Kolula, the armed conflict between the national army, the FARDC, and self-defence groups causes continuous displacements. Food brought by the flight has assisted 15,000 displaced people and returnees living in 15 villages close by.
Producer: Monica Pinna