Icon Debbie Reynolds dies a day after her daughter Carrie Fisher
Comments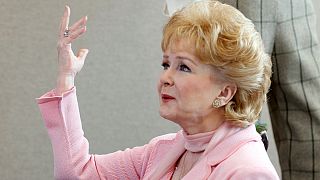 US actress and Hollywood legend Debbie Reynolds, famous for her role in "Singin' in the Rain," died on Wednesday at 84, a day after her daughter Carrie Fisher.
Her son, the actor and producer Todd Fisher, said she died after she suffered a stroke and was rushed to the hospital in Los Angeles. He said the "stress of his sister's death" was too much for his mother, and that her last words were "I want to be with Carrie."
"She's now with Carrie and we're all heartbroken"
—Todd Fisher to AP</a>, on the death of his mother, Debbie Reynolds <a href="https://t.co/DAtM01gWoJ">https://t.co/DAtM01gWoJ</a></p>&mdash; The New York Times (nytimes) December 29, 2016
Loved around the world for her acting, singing, tap-dancing and humour, Reynolds shot to superstardom at just 19, in the 1952 musical "Singin' in the Rain."
She appeared in dozens of films, alongside Gene Kelly, Frank Sinatra, Tony Curtis, Donald O'Connor, Fred Astaire and Dick Van Dyke. She received a best actress Academy Award nomination for the 1964 musical "The Unsinkable Molly Brown."
A look at Debbie Reynolds' career in photos: https://t.co/g0qHBQN0nCpic.twitter.com/YqobY3BSUl

— Los Angeles Times (@latimes) December 29, 2016
It's a week of tragedy in Hollywood.
Reynold's daughter Carrie Fisher, who rose to fame as Princess Leia in the "Star Wars" films and later battled through drug addiction and bipolar disorder, died on Tuesday at 60 after suffering a heart attack.
After Reynolds' death the next day, tributes poured in on social media and many wrote that "she died of a broken heart."
If #DebbieReynolds passing the day after her daughter, Carrie Fisher, dies doesn't make u believe in Broken Heart Syndrome, you're soulless

— Dr. Deborah Serani (@DeborahSerani) December 29, 2016
I can't imagine what Carrie Fisher and Debbie Reynolds' family are going through this week. I send all of my love.

— Ellen DeGeneres (@TheEllenShow) December 29, 2016
Like her daughter, Reynolds had a tumultuous personal life.
At the peak of her stardom, she was drawn into a scandal when her husband, singer Eddie Fisher, began an affair with actress Elizabeth Taylor. Reynolds and Fisher divorced in 1959 and he married Taylor.
Reynolds married and divorced two more men who dilapidated most of her fortune.
"There are good men, including my father and my son Todd, but I happened to marry idiots, which is why I gave up years ago. I have very bad taste in men," she told the Yorkshire Post in a 2010 interview.
"The only good thing about this is that my mom wanted to be with [Carrie]." – Debbie Reynolds' son on mom's death: https://t.co/sSJj3FmRdhpic.twitter.com/G6WDs6nMH5

— Good Morning America (@GMA) December 29, 2016