Tributes and condolences flood in for Star Wars actress Carrie Fisher
Comments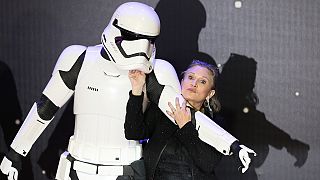 Tributes continue to pour in for the Star Wars actress Carrie Fisher who died on Tuesday.
The film's creator, George Lucas, described Fisher as "extremely smart" and a "talented actress and writer".
Social media has been flooded with messages, including reaction from fellow actors such as Mark Hamill.
"no words #Devastated," he tweeted.
no words #Devastatedpic.twitter.com/R9Xo7IBKmh

— Mark Hamill (@HamillHimself) December 27, 2016
#AFewWordspic.twitter.com/rOKiPr7gP9

— Mark Hamill (@HamillHimself) December 28, 2016
Star Wars actor Warwick Davis said: "She was very, very honest and she was very, very down to earth, you know even though she was hugely famous, played this iconic character Princess Leia.
"When she walked the red carpet she was just the everyman, she was just… she didn't let it go to her head."
Fans around the world have also been paying tribute to Fisher, who died at the age of 60 after falling ill on a flight from London to Los Angeles.
Fan Daniel Barassi said: "The way she acted, the way she projected herself, there was just the strength within her and being a role model for every other girl. I mean, come on, girls had somebody to look up to. I didn't just have Han Solo."
Another fan, Nora Cubas, said: "Very empowering, empowering woman. You know, gives you strength, teaches us women that we can do better and anything possible. So, yeah, strength in women."
In a facebook message, Carrie Fisher's mother Debbie Reynolds thanked everyone for embracing what she called the "gifts and talents of my beloved and amazing daughter".
She added: "I am grateful for your thoughts and prayers that are now guiding her to her next stop. Love Carrie's Mother."
Here is a selection of some of the other social media messages:
TWEETFROMACTOR, BILLYDEEWILLIAMS, WHOPORTRAYEDLANDOCALRISSIAN IN EMPIRESTRIKESBACKANDRETURN OF THEJEDI:
"I'm deeply saddened at the news of Carrie's passing. She was a dear friend whom I greatly respected and admired. The force is dark today!"
TWEETFROMACTORANTHONYDANIELS, WHOPLAYS C-3PO:
"I thought I had got what I wanted under the tree. I didn't. In spite of so many thoughts and prayers from so many. I am very, very sad."
TWEETFROMACTOR, PRODUCERANDCREATOR OF "FAMILYGUY" SETHMACFARLANE:
"Carrie Fisher was smart, funny, talented, surprising, and always a hell of a fun time to be around. Family Guy will miss her immensely."
TWEETFROMACTORANDDIRECTORELIZABETHBANKS:
"#CarrieFisher was so witty and provocative and unrelentingly interesting. Goddamn, I loved her. Everyone did."
TWEETFROMCOMEDIAN, ACTORANDTALKSHOWHOSTELLENDEGENERES"
"@CarriefFisher was a brilliant writer, actor and friend. So was so much fun. I can't believe she's gone."
TWEETFROMWRITERANDDIRECTOREDWARDWRIGHT:
"Farewell Carrie Fisher, the writer, actress, icon and wit. So very sad."
TWEETFROMACTORANDDIRECTORJONFAVREAU:
"Such a sad day for her family, friends and millions of fans. Carrie Fisher is deeply missed."
TWEETFROMACTORWILLIAMSHATNER:
"I'm deeply saddened to learn of the death of Carrie Fisher. I will miss our banterings. A wonderful talent & light has been extinguished."
TWEETFROMWRESTLERCHRISJERICHO:
"Just had to pull over on the side of the highway, to shed a tear for #CarrieFisher. Still one of…instagram.com/p/BOh9NhjjFmx/
TWEETFROMTALKSHOWHOSTGRAHAMNORTON:
"Numb. Unbelievable that such a bright funning loving spark could be extinguished. @carriefisher you will be missed. I wish you peace."
TWEETFROMMAYOR OF LONDONSADIQKHAN:
"Inspiring, entertaining, & a real cultural icon. Rest in peace Carrie Fisher – a true talent who will be much missed."
TWEETFROMCOMEDIAN, TV HOSTANDCEO OF "NERDISTINDUSTRIES" CHRISHARDWICK:
"Amazing princess. Kickass warrior. Incredible writer. Kind soul. My first crush at 6. RIP Carrie Fisher…galaxies of fans mourn your loss."
TWEETFROMACTORANDCOMEDIANKUMAILNANJIANI:
"R.I.P. Carrie Fisher. See her again on talk shows was such a thrill. So hilarious & fearless when she was being herself."
TWEETFROMACTOR DJ QUALLS:
"Heartbreaking to hear of Carrie Fisher's passing, Knowing and working with her is something Ill never forget. A true American original."
TWEETFROMCOMEDIANANDOSCARWINNINGACTORWHOOPIGOLDBERG:
"Carrie Fisher has passed, she was funnier & smarter than anyone had a the right to be. Sail on Silver Girl. Condolences Debbie & Billie R.I.P."
TWEETFROMACTOR, COMEDIAN, WRITERANDMUSICIANSTEVEMARTIN:
"When I was a young man, Carrie Fisher she was the most beautiful creature I had ever seen. She turned out to be witty and bright as well."
TWEETFROMACTORANDCOMEDIANWHITNEYCUMMINGS:
"I don't want my life to imitate art, I want my life to be art.' – Carrie Fisher"
TWEETFROMBASKETBALLPLAYERJAMALCRAWFORD:
"Rip Carrie Fisher…"
TWEETFROMACTORDOMINICMONAGHAN:
"You will always be my first crush and the force will always be with you @carrieffisher #rip #CarrieFisher
TWEETFROMALBERTBROOKS:
"R.I.P Carrie Fisher. A brilliantly funny, talent woman. We will miss your humor now more than ever."
TWEETFROMTHEBANDGARBAGE:
"It got Carrie Fisher too. This year is a monster."
TWEETFROMACTORANDCOMEDIANDANECOOK:
"The news of Carrie Fisher passing away is simply terrible. I had my action figures & Stay Wars cards an out in the a show of support this week."
TWEETFROMMUSICIANDAVENAVARRO:
"I saw Star Wars IV over 50 times in the theater in 1977. @carrieffisher helped shape my entire life! RIP :("
TWEETFROMACTOR, WRITER, DIRECTORZACHBRAFF:
"Carrie Fisher. RIP. What a talent. What a year."
TWEETFROMACTORANDINTERNETSTARFELICIADAY:
"My life as a kid was to have buns like Leia. I had a definitely flammable Star Wars bedspread cause of her. RIP @carrieffisher"
TWEETFROM TV HOSTANDPRODUCERRYANSEACREST:
"Thoughts and prayers to Carrie Fisher's family"
TWEETFROMACTORGREGGRUNBERG:
"I'm heartbroken! Such a special person gone way too soon. I will forever miss #CarrieFisher. RIP"
TWEETFROMWRITER, COMEDIANANDACTORJOELHODGSON:
"Sorry to hear about the passing of Carrie Fisher, a blazing wit and outspoken mental health advocate and princess."
TWEETFROMACTORANDCOMEDIANBOBBYMOYNIHANFROMSATURDAYNIGHTLIVE:
"Love you @carriefisher
TWEETFROMACTORMAYIMBIALIK, STAR OF BIGBANGTHEORY:
"What a woman #CarrieFisher"