Smog levels drop in Madrid amid unprecedented traffic restrictions
Comments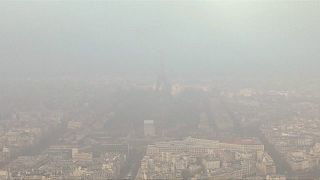 There is good news for motorists in Madrid, with city officials deciding not to extend unprecedented anti-pollution traffic restrictions imposed on Thursday.
Cars with even-numbered plates were banned from using roads in the Spanish capital for the day, with fines of 90 euros for offenders.
But the smog levels have reduced, meaning traffic can return to normal for now.
One Madrid resident, Rocio Lechuga, said: "I think it could've been even stricter, because I think the level of Madrid's pollution has gone beyond normal. But I think as a start, it's a good idea."
But another resident, Mabel Maldonano, said: "I think this is awful. Because we cannot enter. There is a lot of traffic. I don't like it. I really don't like the way they did it."
A lowering of the speed limit and a ban on non-resident parking in the centre will continue, however.
Meanwhile, in Paris, pollution has risen to dangerous levels, meaning traffic restrictions are likely in the days to come.