Philippines President Duterte 'threw man out of helicopter'
Comments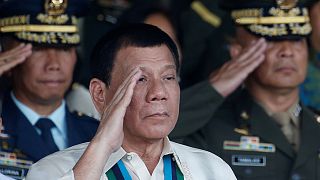 Filipino President Rodrigo Duterte has threatened to throw corrupt officials out of a flying helicopter, while admitting that he's done so before.
Live on Filipino TV, Duterte said "Whoever will use this (public funds) for corruption, I will get him ride the helicopter with me going to Manila and will push him out while we are up on the air". "Yes I will do that! I did that before and I can do that again", Duterte added.
Along with corrupt officials, President Duterte has repeatedly threatened to kill drug dealers and drug addicts.
He has lead a violent war on drugs, which has so far claimed at least 6,000 lives .
In the same speech, Duterte told the Filipino press that he will "personally gun you (drug dealers) down…until the last drug lord is killed".
Duterte has repeatedly said that he previously killed three men , while he was the Mayor of Davao City.
The reaction to Duterte's tactics has been strongly-worded, with the White House saying President Duterte's "comments are deeply troubling and… at odds with the Philippine government's stated commitment to due process".
Despite insisting that neither he nor his security forces are breaking the law, UN special rapporteur rejected the Filipino conditions for her visit, including holding a public debate with Duterte.
And UN High Commissioner on Human Rights, Zeid Ra'ad Al Hussein said the killing's Duterte admitted to "clearly constitute murder".