Philippines' Duterte boasts he personally killed crime suspects
Comments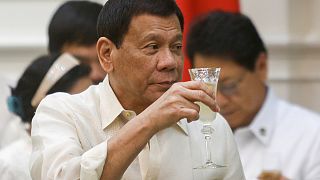 President Rodrigo Duterte of the Philippines is under scrutiny again after claiming he had personally killed crime suspects when he was a city mayor, to set an example to police.
His comments came at a dinner for business people on Monday.
Thousands have been killed in a crackdown on drugs in the country.
"In Davao I used to do it personally. Just to show to the guys that, if I can do it why can't you? And I go around Davao with a motorcycle, with a big bike around and I would just patrol the streets and looking for trouble also," Duterte said in English, before adding in the Tagalog language: "I was really looking for an encounter so I can kill."
Afterwards a government minister described Duterte's claims as "hyperbole", saying he often exaggerated.
The government says the UN won't be allowed to investigate claims of extrajudicial killings unless its envoy debates with the president.