"The flaps, hell" - the last words of Russian plane crew
Comments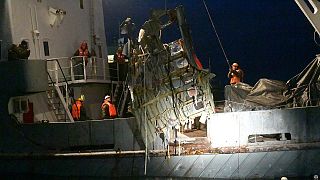 Russian investigators say faulty flaps on the wings of one of their Defence Ministry planes caused it to crash into the Black Sea with the loss of all 92 people on board on Sunday.
"The flaps, hell" were the last words of the crew which were recovered from the flight recorder and released to Russian media.
Divers and manned submersibles have so far recovered 12 bodies from the crash site and over 150 fragments of bodies near the resort town of Sochi.
The Tupolev plane was 33 years old and was a model no longer used by civilian airlines.
On board were 64 members of the renowned Alexandrov military music ensemble who were headed to Syria to play at a New Year concert for Russian troops there.
Russia's defence minister Sergei Shoigu promised compensation packages for all on board.
"Today we will start payments to family members of the victims. We do not differentiate military people from civilians," he said
Despite the Syrian connection, the authorities have ruled out terrorism as a factor.