Russian crash probe points to wing flap failure - reports
Comments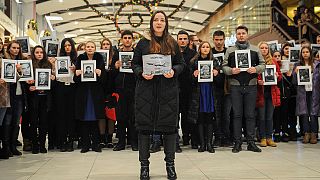 Russian investigators probing the Christmas Day Sochi plane crash believe a fault with the aircraft's wing flaps is to blame, the Interfax news agency reported on Tuesday, citing an investigative source.
According to the report, the military plane was not able to gather enough speed after taking off, and it plunged into the Black Sea, killing 92 people on board including dozens of members of the Red Army Choir.
If confirmed, the technical failure will raise questions about the future of the Tupolev-154, which is still largely used by the Russian government but not by major commercial airlines.
The Life.ru news portal, which has close contacts to law enforcement agencies, said it had obtained a readout of one of the pilot's last words, indicating a problem with the wing flaps: "Commander, we are going down," the pilot was reported to have said.
Interfax separately cited an unnamed investigative source as saying preliminary data showed the wing flaps had failed and not worked in tandem. The news agency also cited an unnamed source as saying Russia had grounded all TU-154 planes until the cause of the crash became clear.
The story behind the Tupolev-154 https://t.co/WIF57Lbxckpic.twitter.com/MHfPoBPwYF

— euronews (@euronews) December 27, 2016