Pope Francis honours persecuted Middle East Christians
Comments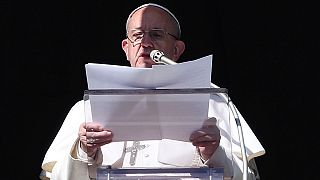 On the feast of St Stephen, the first Christian martyr, Pope Francis paid tribute to Christians in the Middle East who have clung to their faith during persecution by Islamist militants.
His message on Monday was heard by thousands in St Peter's Square
"Today we want to think of those who suffer persecution and to be close to them with our affection, our prayers and our tears. Yesterday on Christmas Day, the persecuted Christians in Iraq celebrated Christmas in their destroyed Cathedral. This was an example of fidelity to the Gospel," he said.
The Pope's words are acknowledgment of the many Iraqi Christians able to spend a first Christmas since 2013 at church, now that ISIL has been chased out of many towns and cities.
On today's Feast of Saint Stephen let us remember the martyrs of today and yesterday. May we overcome evil with good and hatred with love.

— Pope Francis (@Pontifex) 26 décembre 2016
Francis said there are more Christian martyrs now than in the Church's early days.
He spoke as Christmas events in Europe have been surrounded by tight security amid the threat of Islamist terror attacks.
Italy tightens security in and around the Vatican in the immediate aftermath of the Berlin Christmas market attack. https://t.co/mCCHfFJtMPpic.twitter.com/H8vKJzJsK4

— ABC News (@ABC) 20 décembre 2016
with Reuters