Moldova's Igor Dodon sworn-in as president
Comments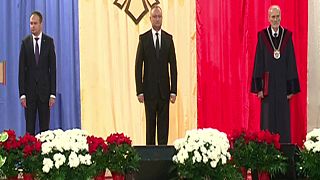 Moldova's pro-Russian leader Igor Dodon has been sworn in as president during an inauguration ceremony in the capital Chisinau.
It follows his election victory last month.
In what was the first direct presidential vote in Moldova in 20 years, Dodon won around 55 percent of the ballot defeating pro-EU candidate Maia Sandu.
The country's parliament has chosen the president since 1996.
The election was broadly seen as a choice between those supporting closer integration with Europe and those wanting to restore ties with Russia.
Dodon, supported the later, vowing to construct a closer relationship with Moscow by joining the Russian dominated Eurasian Economic forum.
But that pledge could be easier said than done – Moldova currently remains dependent on EU and IMF cash after a severe banking collapse in the ex-Soviet Republic last year.