Moldova: Pro-Moscow candidate claims presidential victory
Comments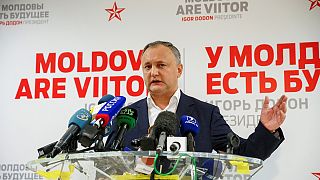 Preliminary results in Moldova's second round presidential election have a pro-Moscow candidate in front.
With almost all ballots counted Igor Dodon has claimed victory taking 55% of the vote while his rival has 45%
A loss of trust in pro-European leaders appears to have helped Dodon who wants to restore close ties with Russia.
Speaking shortly after the closure of polling stations on Sunday (Nov.13), Dodon called on his opponent to preserve public order and abstain from protests.
"I want to address the other side – regardless of the result, let's call on people to be calm. We do not need unrest and protests, we do not need destabilisation in the society."
Pro-#Putin figures continue to take over the west as they've won presidential elections in #Bulgaria & #Moldovapic.twitter.com/2Y8×02pp6m

— Thomas van Linge (@arabthomness) November 13, 2016
Dodon's Russia sympathies are in direct conflict with the pro-European stance of the current government.
Dodon's opponent who favours European integration Maia Sandu has complained of voting irregularities, highlighting the shortage of ballot papers for overseas voters.
"Unfortunately, this election was badly organised. Polling stations in London, Bologne, Bucharest and Paris ran out of ballots today. Hundreds of people were not able to vote," said Sandu.
Enthusiasm in Moldova for the EU has waned some what since the country signed a political and trade agreement with the European bloc.The deal damaged its ties with Moscow, which in turn imposed trade restrictions on Moldovan farming exports.