UN probe unable to apportion blame in Aleppo convoy bombing
Comments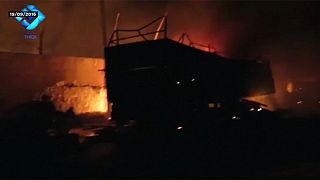 A convoy that was bombed while trying to take aid into the besieged city of Aleppo last September was hit by an air strike but its not known who was responsible.
That's the conclusion of a UN inquiry into the incident in which at least 10 people died and some 22 more were injured.
It says it was unable to conclude if the strike was deliberate or who was to blame.
The board of inquiry did note that multiple types of munitions were used from more than one aircraft.
US officials believed that Russian planes were responsible but Moscow has denied involvement saying a US drone was in the area at the time of the attack.