Syrian government vows to rebuild as tourists visit war ravaged city
Comments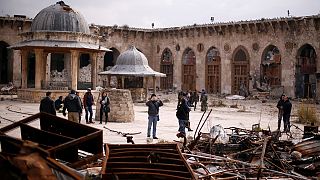 Despite the desperate chaos in eastern Aleppo,where thousands of people still remain trapped, tourists have been allowed to return to the historic part of the city for the first time in four years.
During the fighting Pro-Assad forces defended the ancient citadel, but much of what is left has either been badly damaged or reduced to rubble.
The government has vowed to rebuild the UNESCO world heritage site.
''I was afraid to come, but they encouraged me and brought me here….. If the citadel had not been with the army you would have seen it more damaged,'' said one woman among those visiting the ancient city.
The opening of Aleppo's historic quarter follows the recent rapid advance by government forces to recapture the war ravaged Syrian city.
The visit by tourists comes as thousands of civilians seeking to leave Aleppo continue to remain in limbo. On Saturday, a new deal was reportedly reached to restart evacuations after an initial truce broke down on Friday.