New deal agreed for Aleppo evacuation
Comments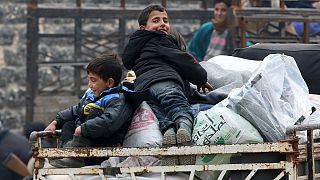 A Syrian government source has confirmed a new deal has been reached to resume the evacuation of rebel-held areas of eastern Aleppo.
The operation stalled over demands from pro-government forces that two villages besieged by rebels must also be evacuated.
How many have already been evacuated from eastern Aleppo?
Activists say an estimated 8,000 had been evacuated from the rebel-held eastern areas of the city.
However, tens of thousands more were waiting for transport when the deal collapsed on Friday.
Why did the deal collapse?
The operation was suspended on Friday, the second day of evacuations of civilians and fighters from the last opposition-held area of Aleppo.
Pro-government militias had demanded that wounded people also be brought out of the two Shi'ite villages of al-Foua and Kefraya.
The source
A Syrian rebel source gave the details to the news channel al-Arabiya al-Hadath.
Speaking from Aleppo, Al-Farouk Abu Bakr said the deal comprised:
an evacuation from the two Shi'ite villages besieged by insurgents
the evacuation of wounded people from two towns besieged by pro-government forces near the Lebanese border
the full evacuation of rebel-held Aleppo
Abu Bakr did not say how many people would be evacuated from the two Shi'ite villages, al-Foua and Kefraya.
Has the news been confirmed?
Yes.
An official from the Syrian government has confirmed that the evacuation operation will resume.
In the media
Aleppo evacuation to resume under new Syria deal https://t.co/pgcLgmZSVw

— Guardian World (@guardianworld) December 17, 2016