Obama "vows retaliation" against Russia
Comments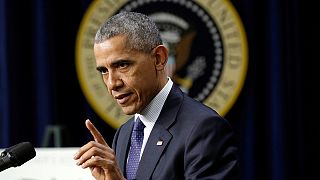 Mr Putin is well aware of my feelings about this

US President
Barack Obama says the US will take action against Russia over claims of its involvement in the country's recent presidential election.
The US president made the statement in a national radio interview.
Obama tells NPRinskeep</a> that U.S. "will take action" in response to Russia hacking during election. <a href="https://t.co/a8IxbfD17o">pic.twitter.com/a8IxbfD17o</a></p>&mdash; NPR (NPR) December 16, 2016
What Obama said
"I think there is no doubt that when any foreign government tries to impact the integrity of our elections, we need to take actions and we will."
"At a time and a place of our choosing. Some of it my be explicit and publicised, some of it may not be. Mr Putin is well aware of my feelings about this, because I spoke to him directly about it."
Obama says action must be taken against Russia after White House suggests Putin involved in U.S. election hacking. https://t.co/wJq73KNSuK

— The Associated Press (@AP) December 16, 2016
The claims
Three US officials have said Russian President Vladimir Putin supervised his intelligence agencies' hacking of the US presidential election.
They turned it from a general attempt to discredit American democracy to an effort to help Donald Trump, it is claimed.
Obama has ordered U.S. intelligence agencies to deliver evidence to prove Russia involved in cyber attacks https://t.co/Y0UaHZPyvCpic.twitter.com/AeRBsebBCl

—

NBC

News (@NBCNews) December 9, 2016
What has Russia said?
Russian officials have denied accusations of interference in the US election.
Top spy REJECTSCIA's claim that Russia hacked to hand Trump victory https://t.co/1eXkupaRcc

— Daily Mail US (@DailyMail) December 13, 2016
What has Donald Trump said?
The US president-elect is angry.
He says he won the November the 8th election fairly.
If Russia, or some other entity, was hacking, why did the White House wait so long to act? Why did they only complain after Hillary lost?

— Donald J. Trump (@realDonaldTrump) December 15, 2016