Aleppo evacuation 'aims to ensure civilian safety' - Syrian government
Comments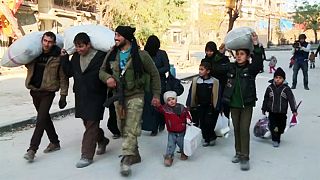 A Syrian government minister has said the evacuation plan must ensure the safety of civilians when the rebels withdraw from eastern Aleppo.
The UN has said up to 50,000 people are trapped in the rebel enclave.
"We have only one goal — that's to ensure the safety of civilians, not the armed militants. Our final goal is to ensure that they can withdraw safely and we will try our best to protect them," said Ali Haider, Syria's Minister for National Reconciliation Affairs, speaking to reporters in Damascus.
There are reports that civilians are being given the choice of whether to leave or remain in Aleppo.
The part of Idlib province where fighters and their families are being taken is under rebel control but it has been under attack from government forces.
Concerns have been raised in particular for the safety of young men being evacuated. Despite the Russian and Syrian assurances, some opposition activists say people are scared.
Russia says it will use drones to monitor the evacuation operation.
Syrian state media says a separate convoy is heading to villages besieged by rebels to evacuate wounded and their families.