ISIL claims responsibility for Cairo Cathedral attack
Comments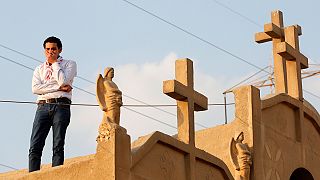 The Islamic militant group ISIL has said it was behind Sunday's bomb attack (Dec 11) on Cairo's main Coptic cathedral.
In a statement carried by its news agency Amaq it said one of its fighters blew himself up inside the church. They named the attacker as Abu Abdallah al-Masri.
"Every infidel and apostate in Egypt and everywhere should know that our war … continues," it said.
At least 25 people died in the blast and 49 or more were injured. Most of the victims were buried on Monday.
The Christian minority in Egypt has frequently been targeted by Islamist militants.
The government has identified the bomber as 22-year-old student, Mahmoud Shafik Mohamed Mostafa. It claims he was a supporter of the banned Muslim Brotherhood political movement who had joined a militant cell.
Egypt has seen a wave of attacks since the 2013 military ousting of democratically elected President Mohammed Morsi who was backed by the Muslim Brotherhood. The government has since launched a crackdown on Islamists.