Anti-corruption drive dominates Romanian election campaign
Comments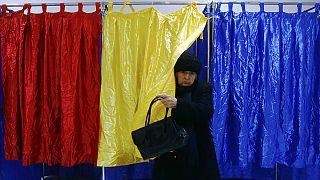 Romanians are heading to the polls on Sunday to elect a new government, a year after a vast anti-corruption drive forced Prime Minister Victor Ponta to step down.
Opinion polls show turn out is likely to be drastically low and the result inconclusive, meaning smaller parties could be kingmakers.
The main battle will be between the centre-left Social Democrats, supported by the Alliance of Liberals and Democrats, and the right-leaning National Liberal Party and their allies in the Save Romania Union.
The party, founded just six months ago, is polling at third place, making them the likely coalition partner for the centre-right. They are standing on a platform of rooting out corruption, and plan to keep the technocrat prime minister Dacian Ciolos.
The early vote comes after the government collapsed amid a corruption scandal. Thousands of Romanians took to the streets after 64 people were killed in a fire at a Bucharest nightclub. The demonstrators called for the prime minister, already subject to a graft probe, to quit amid complaints over government corruption and poor safety standards.