Italian sociologist dissects the future of Italy post-Renzi
Comments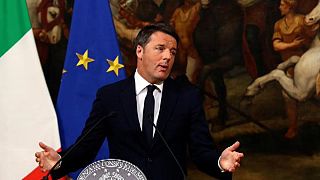 The Italian referendum result and Prime Minister Matteo Renzi's resignation raises key questions, not just for Italy but for Europe as well.
On Monday, Italy woke up to political and economic turmoil. Aside from the threat of a banking crisis, Renzi's crushing defeat could trigger snap elections.
If that were to happen, Italy's Five Star Movement is waiting in the wings to take charge. While not opposed to the EU itself, the populist party is firmly opposed to the euro.
The size of Renzi's defeat is also sure to alarm other European capitals, with unpredictable elections coming up next year in France, Germany and the Netherlands.
Euronews spoke with Turin University sociologist Luca Ricolfi on the Italian 'no' vote and the future of the country as Prime Minister Matteo Renzi steps down.
Simona Volta, euronews:
Can the 'no' vote expressed by the Italians be equated to Brexit and Trump's victory?
Luca Ricolfi:
I wouldn't say that, we are talking about two different things. Actually, populism was already in the government because Renzi is one of the most populist leaders in Europe. He made a whole electoral campaign against Merkel, against Germany's populist campaign, so I would say that two populisms confronted each other. But there was a little less of populism in the 'no' field than in the 'yes' one.
euronews:
You talked about Merkel… This Monday economy minister Padoan was not present at the Eurogroup. Will the EU have the impression that Italy is drifting?
Luca Ricolfi:
I'm afraid yes. But not because Italy voted 'no', because our politicians will not hurry up. They will take a lot of time to solve this situation and consultations such as party meetings will start. The fact that Mr Padoan didn't go to the Eurogroup meeting is not a good sign, because a well-organised government would have held the ministers' council last night as to not conflict with Eurogroup…and then would have decided the line for Padoan to follow. Instead, now the rituals of Italian politics will start.
euronews:
How much will this 'no' influence the Italian economy and its banks?
Luca Ricolfi:
On the Italian bank situation I think that a 'no' or a 'yes' would have 'weighted' in the same way. Maybe the 'no' is just a little bit worse than the yes. But if the Italian banks have problems, a 'yes' or a 'no' doesn't change the situation. If the balance sheets deteriorate, they will continue to do so, whether the 'no' or the 'yes' win.
Regarding the economy, I feel a 'no' vote could be even positive. Renzi did two things: he gave oxygen to the families, he gave oxygen to the budgets of the families. A sudden and spectacular change, then. The cost of this operation was to ravage the public finances. We have a relationship between deficit and GDP which has continued to rise since Renzi has been in government. It will probably grow even next year. We are at a crossroads: we need to invert this trend or the markets will squabble us.
euronews:
Did Renzi make any mistakes during this campaign?
Luca Ricolfi:
Renzi made a lot of mistakes in this campaign, enormous mistakes. The biggest, in my opinion, was not to listen to anybody. He doesn't respect either politicians or intellectuals or journalists and those who have different public opinions. It was his biggest mistake. In this way he has increased the gap, which was already big, between citizens and their politicians.