Bolivia's once second largest lake completely dry
Comments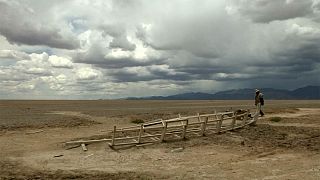 Bolivia's once second largest lake is now completely dry after the worst drought in a quarter of a century.
Describing themselves as climate refugees, locals living next to lake Poopo in the south of the country say everything has perished including their livelihoods.
The prolonged drought is thought to have been exacerbated by the El Nino weather phenomenon and rising global temperatures.
Severe water shortages in the Latin American country have seen widespread rationing introduced.