Far-right or green? Austria votes in the country's presidential election
Comments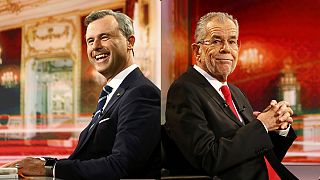 Austria's protracted presidential election reaches its voting phase as former Green Party leader, Alexander Van der Bellen on Norbert Hofer from the far-right Freedom Party.
Jetzt anmelden! Und WhatsApp-Nachrichten von Alexander Van der Bellen empfangen. ➡️ https://t.co/UWEclMyHlMpic.twitter.com/VRkgyxIAK3

— A. Van der Bellen (@vanderbellen) November 5, 2016
The saga began with the May election, narrowly won by Mr Van der Bellen, which was overturned due to irregularities in the counting procedure.
Europe is watching the vote with interest and trepidation if Hofer wins he will be the first far-right head of a European state.
Election posters of Austria's far-right president candidate, Norbert Hofer, were defaced to make him resemble Hitler https://t.co/1aV0IksGYQpic.twitter.com/FgGxBA0E2t

— New York Times World (@nytimesworld) November 30, 2016
After Brexit and Trump and changes in the political landscape in Spain and Greece EU leaders will be hoping for a Van Der Bellen victory.
Fears of a shift to anti-immigration and anti-mainstream parties is gripping Europe with elections in France, Germany and the Netherlands due next year.
Full results are expected Monday evening.